Gilded New York Exhibit at the Museum of the City of New York
In November 2013 some of our Guild members visited the Museum of the City of New York with the "Gilded New York Exhibit" displaying items from the Gilded Age (late 1800s) as the primary draw. They also explored the other active exhibits within the museum, which are often quite interesting, and focused on New York City and its history. The museum is located on Fifth Avenue (at 103rd Street) near the Eastside of Central Park. It is worth checking out, as sometimes there are exhibits that are made for costumers, especially with a historical interest.
The "Gilded New York Exhibit" is an ongoing exhibit on the second floor. It is not a large room and only has two costumes on display but it is rich with pictures, plateware and glass and especially with accessories and jewelry. It would be wonderful if in time they grew the exhibit.
The room had dim lighting providing the atmosphere of the era but making photography challenging. Hopefully there is enough to inform those who cannot travel to NYC and to motivate those who can to visit the museum for their selves. There is also a gallery on the museum show a few of the items with better lighting. See the Links below: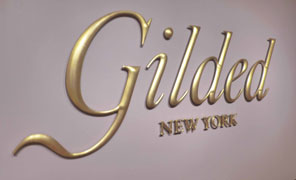 Diane Kovalcin
Museum of the City of New York
"Gilded New York" Exhibit; Museum's Description and Gallery
Click on the images to see the picture galleries.
All content copyright © 2003-2014 and beyond by The New Jersey/New York Costumers' Guild, except where noted. All rights reserved. All pictures copyrited by Diane Kovalcin and Susan Toker. Some design elements borrowed from the Museum of New York City website as a homage. For questions concerning this web site, please contact us.