Philcon 2010 was held November 19-21, 2010
at The Crowne Plaza, Cherry Hill, New Jersey.
Below are collections of pictures from Philcon 2010 taken by Byron and Tina Connell and Susan Toker. The pictures give you a feel of Philcon 2010 along with showing off the costumers. The convention was held at the The Crowne Plaza, in Cherry Hill, New Jersey.

The Guest of Honor was Peter S. Beagle, author of award winning novels including "The Last Unicorn". Peter actively engaged with the fans. In between panels, he could be found in the Dealers' room and he even sang during the masquerade half-time!

There was a small Steampunk Ball Friday night with the Masquerade Saturday eve. The convention had a diverse multi-track program and art and costume workshops for both adults and children. Unlike many conventions, the gamers are located on the quiet side of the main lobby. It is next to the Dealer's room and Main Ballroom allowing the gamers to be a part of the convention and encourage new gamers to join in.

The Dealers' room was large and had a good mix. The art show was small but with a good print shop. They held a number of Art workshops there, including the Japanese braiding class shown below in pictures.

The masquerade was small and economically low tech but enthusiastic and fun. Dora Buck was the masquerade director and the NY/NJ and and Greater Delaware Costumers' Guilds helped out. The official masquerade photographer was the talented Ken Warren.

We are always looking for more pictures of this event!
There is also need to put names to faces, as well as costume names and awards. Please help us fill in the missing information by sending your identification info (based on picture title) to the Pup's webmaster here: webmaster "at" sickpupsnot.org
Click pictures for larger images: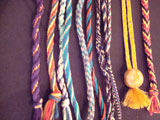 Japanese Braiding Workshop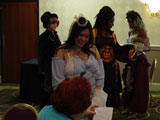 Masquerade Green Room
The End!